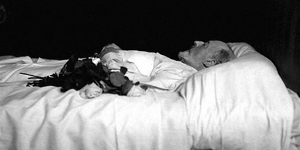 Edward usually smoked twenty cigarettes and twelve cigars a day. Towards the end of his life he increasingly suffered from bronchitis. In March 1910, the King was staying at Biarritz when he collapsed. He remained there to convalesce, while in London Asquith tried to get the Finance Bill passed. The King's continued ill-health was unreported and he attracted criticism for staying in France whilst political tensions were so high. On 27 April he returned to Buckingham Palace, still suffering from severe bronchitis. 6 May, the King suffered several heart attacks, but refused to go to bed saying, "No, I shall not give in; I shall go on; I shall work to the end." Between moments of faintness, the Prince of Wales (shortly to be King George V) told him that his horse, Witch of the Air, had won at Kempton Park that afternoon. The King replied,
"I am very glad": his final words
. At 11:30 pm he lost consciousness for the last time and was put to bed. He died 15 minutes later.
The Edwardian period was seen as golden age for the upper class in Europe and America, but society was changing – socialism, women suffragettes, the Labour party and trade unions were becoming powerful and the founding of Britain's Welfare State. 'We are all socialists now' he is reported to have remarked.
In an increasing democratic society Edward saw the importance of displaying the mystique of pomp and circumstance of the monarchy, and seeing and being seen by the people. A role he and his successors took to well.